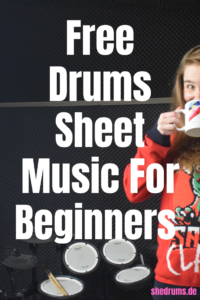 Looking for drums sheet music for beginners?
Your search is over.
At least for now. 🙂
Down below, you'll find selected drum notes you can instantly download for free.
They contain fun & easy beats for the beginning drummer.
Also, I do provide my drums sheet music in the handy PDF format, so you can easily print or save them on your mobile devices.
Just click on the button and the download will start.
(If you're having problems or questions, simply contact me for help.)
Feel free to share the notes with your drumming buddies or your teacher as well.
Have a great time learning some fancy new drum beats. 🙂
And before I forget, here's the chart explaining my drum notes: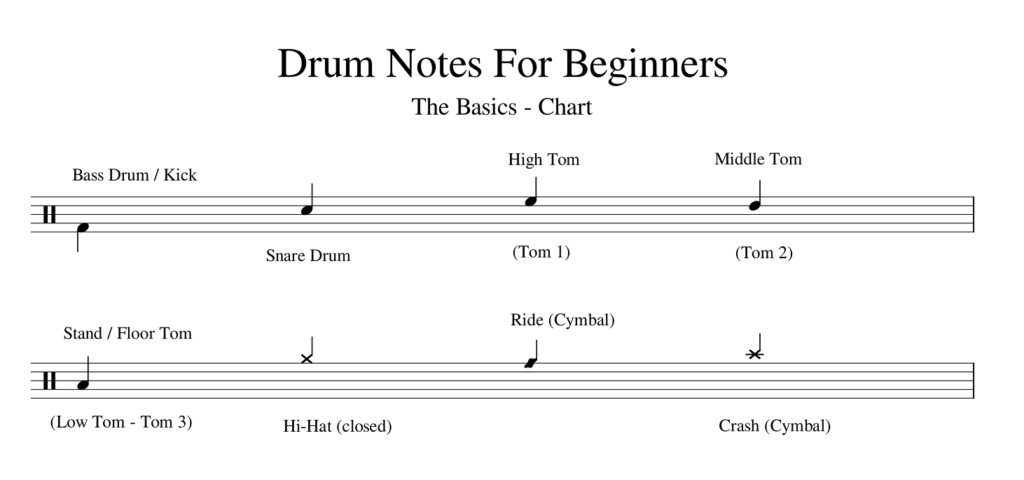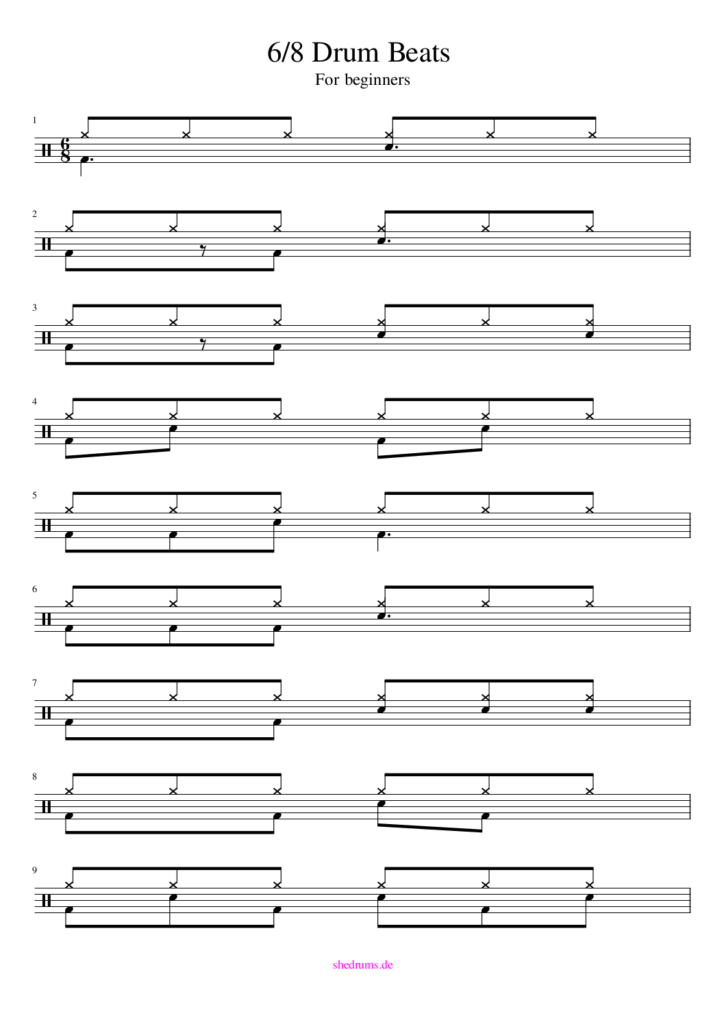 Nine cool drum beats in the 6/8 time signature is what this PDF is all about. You can practice each groove as it is, or combine it with slow Rock ballads. Nothing Else Matters, anyone? 🙂 Also, make sure to count 1, 2, 3, 4, 5, 6. This will help you to get used to the 6/8 feeling.
Why Drums Sheet Music For Beginners?
Affiliate Disclosure: Links marked with a * will lead you to Amazon. As their Associate, I earn from qualifying purchases (at no extra cost to you).
Yes, I know: Learning to read drum notes might not be the most popular part of the musical journey.
Some drummers even state that they are a threat to one's creativity. (Sounds familiar to music theory, right?)
If you ask me, the latter is nothing to worry about.
Just make sure you don't get too reliant on your drums sheet music.
Instead, use your PDF notes as a reminder of what you're going to play.
They are a powerful tool helping you to understand what you're doing around the kit.
If you successfully learned a groove or fill, for example, put away the notes on your music stand* once in a while.
Mesmerize the exercise, and find out whether you are able to really rock it, or still have to invest some more practice time.
Have a try!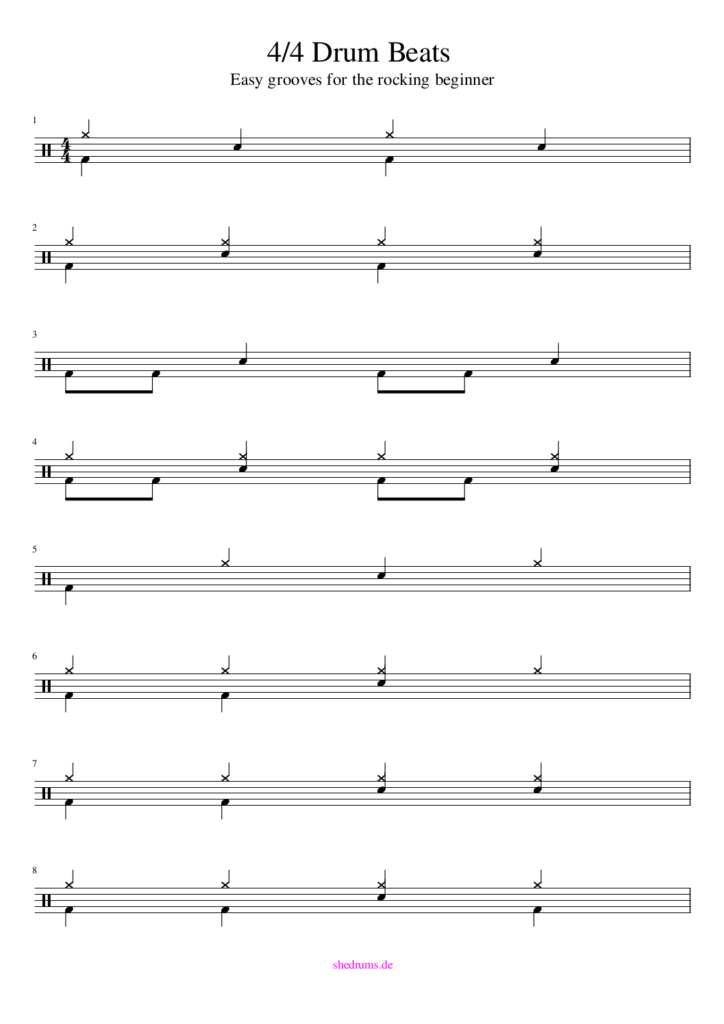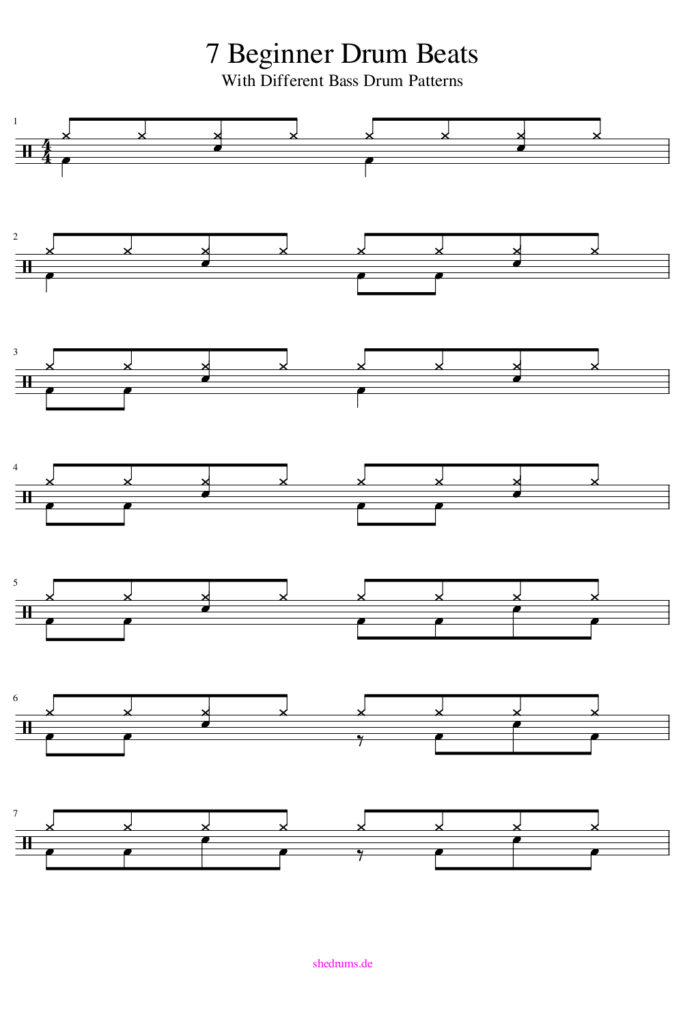 Learn eight simple, but rocking drum grooves for beginners. They are in 4/4 and include quarter as well as eighth notes. Also, you will play the bass drum, the snare and the hi-hat.
You're looking for fun and fancy beginner drum beats with changing kick patterns? Grab this piece of free sheet music. You will learn 7 cool grooves, including some nice variations for the bass drum.
Advertisment*