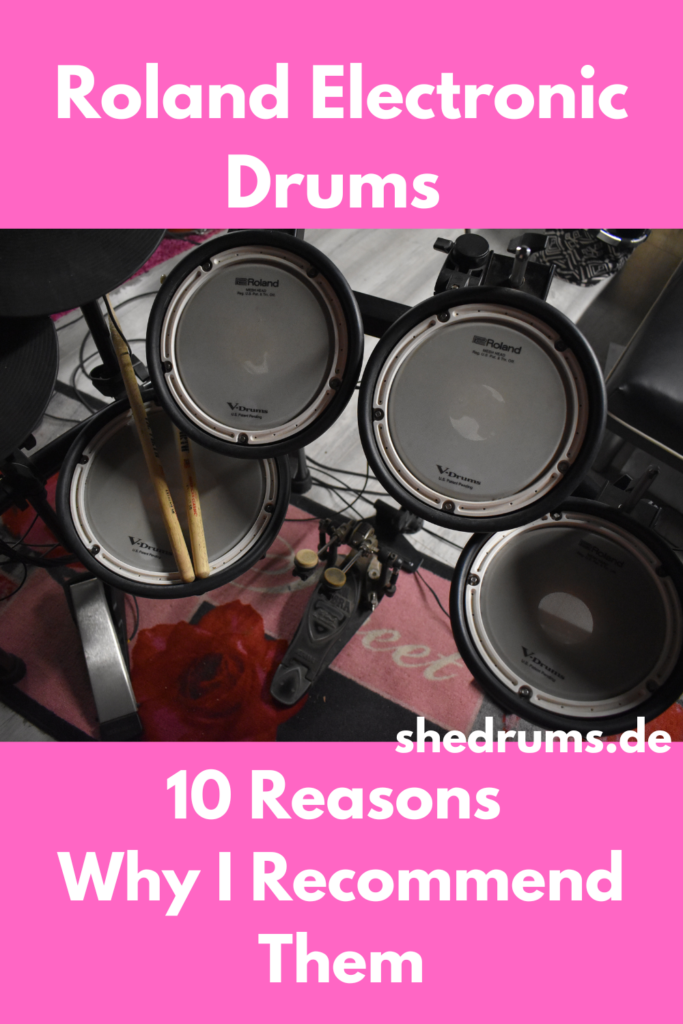 So, you want to buy your first electronic drum kit.
But which one is the best pick for you?
Personally, I recommend electronic drums by Roland.
They are also known as V-Drums, offering everything needed to learn playing the drums right from the start.
I've been using my Roland TD-1DMK since 2019.
If you've watched some of my YouTube videos, you might already know it.
That's why I recommend their electronic drum kits:
I'm convinced they are worth your money.
Obviously, there have to be various reasons why I recommend Roland electronic drum sets for beginners.
We'll take a look at 10 of their benefits in this drumming guide.
Please notice:
I'm solely sharing my personal
thoughts,
experiences
and opinion
to help you find the best electronic drum set.
This guide is not sponsored by Roland.
With that said, let's take a look at the first benefit:
1. Roland Electronic Drums Are High Quality Kits – Even The Cheaper Ones
Electric drum sets come at different price points.
You can buy a used one for 100 or a custom set for more than 10,000 bucks.
And no, you definitely don't need an expensive drum kit to enjoy making music.
At the same time, you shouldn't go for the cheapest offer either.
It's likely that you will get what you pay for: Not that much, really.
For this reason, I always recommend solid brands like
for people looking to buy a new or pre-owned electronic kit.
There are, of course, many more music instrument manufacturers out there.
Yamaha,
Efnote and
Millenium
come to my mind.
However, I believe Roland and Alesis offer the best quality for drum beginners and their money.
Again, I'm sharing my personal opinion here.
And yes, I've been able to test Millenium and Yamaha e-drums in the past.
The kits were fun to play, but at least up until now, I liked others better.
2. The Set-Up Is Easy: Plug In & Play
The second reason why Roland e-drums can be worth your money is their relatively easy set-up.
Based on my personal experience with the TD-1DMK, you just
buy or rent the kit,
set it up,
connect the drums and the sound module to the mains
plug in your cabled ear phones
and start drumming.
Basically, that's it.
You can also connect the electronic drum set to an additional speaker module.
If you do so, you can play it without earphones, just like an acoustic kit.
Electronic drum sets by Roland for this reason are beginner-friendly:
You basically set them up and start playing.
3. Drum Set Bundles For Beginners Come With Everything You Need To Start
Electronic drums are made of various parts, including
the drums themself,
cables,
a sound module
and a rack.
You also need basic drumming equipment like
sticks,
a drum throne
and a bass drum pedal
to start out on your electric drum set.
Especially for beginners, it can be hard to think of everything a drum set needs to include.
That's why I frequently recommend choosing a high-quality drum set bundle:
If you don't own any drum equipment yet, bundles simplify your first steps as a drummer at a reasonable price.
Most bundles include everything from the electronic drums to the kick pedal and sticks.
Some offers even come with additional headphones and drum monitor speakers.
And yes, the price is also likely to be cheaper when buying a bundle.
If bundles sound interesting to you, I'm sure you'll be happy with the ones that include Roland drums.
4. Realistic Sounds Make Drumming More Fun
Electronic drums need to be connected to the mains.
If you don't have a speaker or earphones, they only produce noises like in this video at around 01:32 min:
Just the Drummer plays the same kit as me, the Roland TD-1DMK.
He also uses the same sound module.
It should still be a standard part of this kit if you buy it new.
At least it was when I bought mine back in 2019.
Plus:
I think the integrated sounds are well-rounded for the price.
You can also choose from other sound options if you don't like the standard ones presented in the video.
And:
If you want to, you can buy a different sound module for your Roland electronic drums.
You don't have to use the standard model, offering you a nice flexibility in terms of musical choices.
5. Roland E Drums Are Compactly Built & Sturdy
Compared to acoustic drums, electric drum kits tend to be way more compact.
They have smaller dimensions, making them a great choice for smaller rooms.
If you've watched some of my YouTube videos, I'm sure you've noticed the size difference between my acoustic set and my electronic kit.
However, most e-drums are compactly built.
Which makes Roland kits so special, then?
They are not only compact but also sturdy.
That's a big difference compared to less-quality drum sets.
The thing is:
Playing the drums is a highly physical activity.
It's really annoying when you play and a part of your drums gets loose.
I'm talking personal experience here:
Some years ago, I bought a DW Go Anywhere Practice Kit.
DW is without a doubt THE brand for drummers, but this product really gave me headaches.
Each time I played it, a pad got loose.
And yes, I did everything I could to fix this issue.
But it didn't work.
That's when I really learned to love a reliable construction provided by all of my drumming equipment.
So far, my V-Drums haven't disappointed me.
6. Their Mesh-Heads Provide A Quite Realistic Feel
One of the biggest differences between an acoustic and electronic drum kit are their measurements.
However, the biggest difference has to be the feeling of playing them.
Playing on electronic drums for beginners does feel different compared to acoustic drums.
There's simply no way to argue with that.
And yes, I know there are electric kits out there that really come close to the "natural" acoustic feel.
But those sets are expensive.
I mean:
Really expensive, at least for non-professional drummers.
So, you have to compromise at some point.
Roland makes this easy for you.
Even their most affordable kits offer a good feel.
However, I can still only recommend electronic drum sets with mesh heads.
They are built to provide a more realistic feel compared to pads made of rubber.
7. Roland Electronic Drums Are Easy To Record
Frequently recording your drum sessions can help you grow a lot as a musician.
You'll be able to
track and analyze your drumming progress,
capture your ideas and
efficiently train your ears.
At the same time, you can easily share your records with friends or your social media following.
In my opinion, every musician should record regularly.
You can do so using a smartphone or digital camera, but Roland electronic drums make the recording process way smoother.
After all, most of the kits come with built-in recording features.
8. Helpful Practice Features Are Integrated
In addition to built-in recording features, modern e drums offer
an integrated metronome,
unique coaching functions and
even onboard songs to play to.
These features are made to speed up your drumming progress each time you're practicing.
However, and to be perfectly honest, I personally don't use such integrated functions.
My TD-1DMK has them, but I prefer Metronomerous as my click and songs on YouTube to practice to.
Still, the features are an extremely helpful addition for everybody keen on using them.
9. V-Drums Feel Good Despite Their Compact Measurements
Electric drum kits for beginners tend to be more compactly built than acoustic drums.
Take a look at this photo: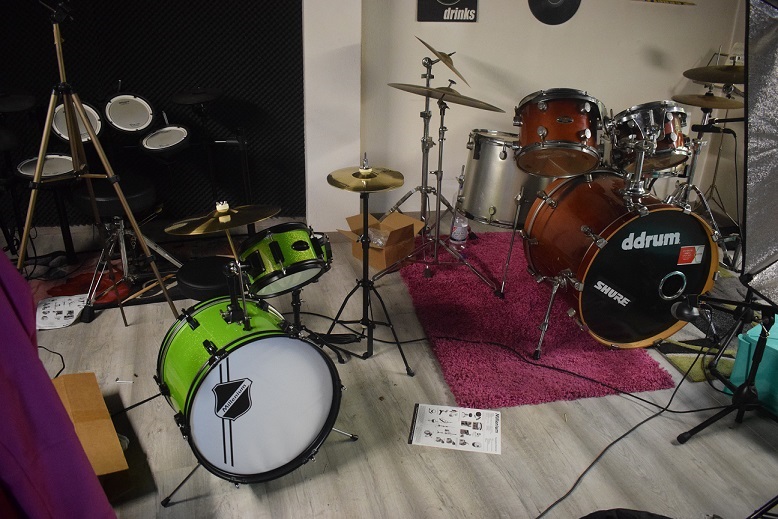 You can see
my Roland electronic drums in the rear left corner,
a drum set for the young ones (green kit, was a present for a family friend)
and my regular acoustic drums.
And no, my acoustic set is not overly huge.
It's a regular Fusion configuration with a 22-inch kick.
Especially when limited room is available, an acoustic kit can obviously take up too much space.
That's when the compact measurements of electric drums come in really handy.
At the same time, you have to know this:
Playing on a standard electronic kit does feel different from playing on a standard acoustic kit.
(Again, I'm talking about e drums for beginners here. Not the way more expensive "like an acoustic kit built electronic sets".)
That's one main reason why many drummers don't like electronic drum kits.
And yes, I definitely see this point.
I also think Roland is well aware of it.
For this reason, their V-Drums can be adjusted and set up relatively flexible.
They feel quite good, especially for drummers just starting out.
However, I need to repeat myself:
If you're going to buy an electric drum kit, make sure it offers mesh-heads.
That's because mesh is made to emulate the feel of a regular drum head.
Are they a 100 percent authentic?
No, at least not in the low and middle-prized drum section.
But they are a great starting point for learning how to play the drums.
10. You Can Sell Your Roland For More Money Than A No-Name Kit
I know, I know …
You want to BUY the perfect kit!
Not SELL it.
Still, it's a good idea to keep the future in mind.
After all, your drumming needs can change.
And kits by Roland or Alesis can be sold for more money than no-name instruments.
At least that's what I've noticed over the past few years.
Yes, I like buying pre-owned drumming equipment. 🙂
So, Are Roland Drums The Best Pick For You?
Now you have it:
These are my personal top 10 reasons why I recommend Roland electronic drum sets.
Hopefully, they help you find the best kit for you.
And remember:
V-Drums are my first choice, but they don't have to be yours.
If another brand offers a great kit for you, go for it.
After all, it's not the instrument that makes the music.
It's you, the drummer!
Conclusion: Top 3 Reasons Why I Recommend Electronic Drums By Roland
What I like most about Roland electronic drums is
their sturdy and high-quality,
a fun to play character and
that you can record them quite easily.
I personally don't use their practice features, but certainly many drummers do.
Also, you will notice that V-Drums are, in general, often recommended for beginners.
For me, this comes as no surprise.
But taste differs, so there's simply not THE perfect beginner e-drums out there.
With this said:
I hope you find your perfect pick soon!
Cheers,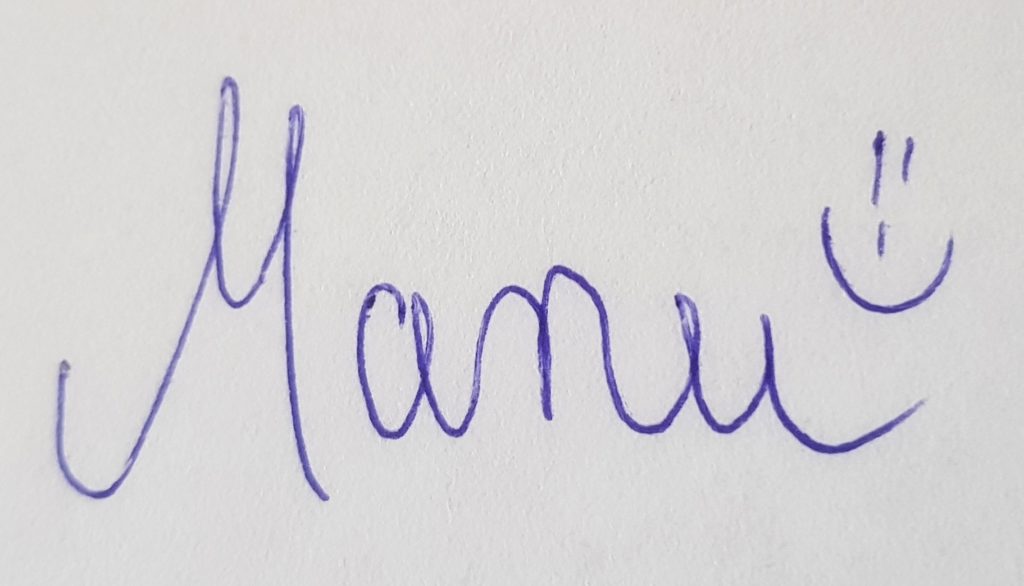 Share what you've learned!