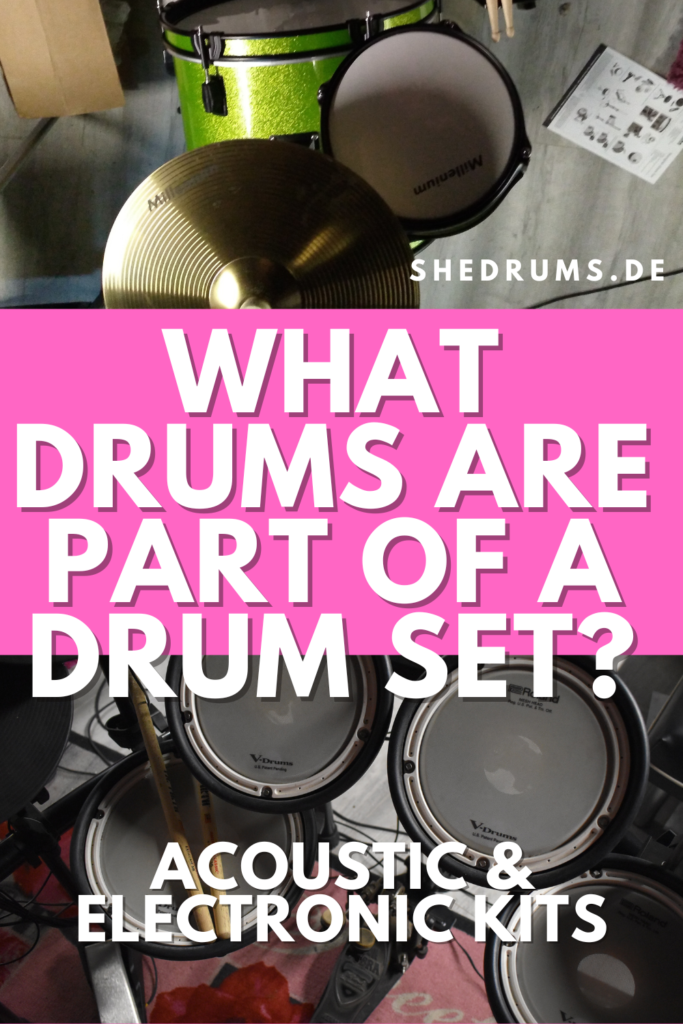 What drums are in a drum set:
Bass.
Snare.
And …?
Great question.
Let's answer it. 🙂
Remember: Drum Kits Are Highly Individual
Before we start, remember the following:
A drum set is a highly individual instrument.
You can have the amount of toms, snare or bass drums you like.
If you wish, you can have like 12 drums in your kit.
And no, I'm not kidding.
Check out one of the largest drum sets in the world.
However, drum beginners certainly don't need such a huge kit.
No, really not.
When you're starting out, a typical 5-piece drum set simply is enough.
Check out my kits: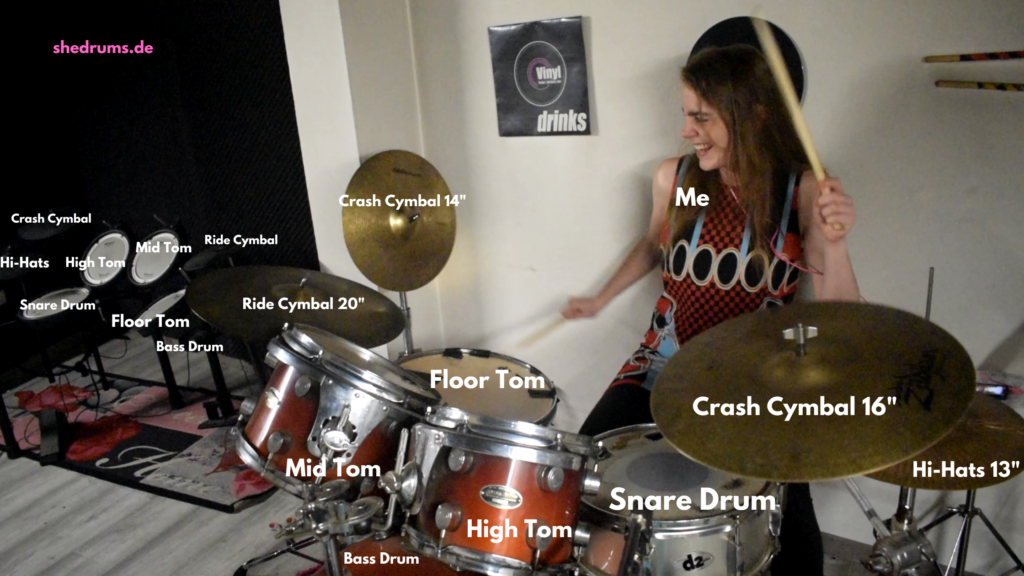 The five drums
snare drum
bass drum
high tom
mid tom
low tom
give the 5-piece kit its name.
Also, the drums of an acoustic and electronic drum kit are pretty much the same.
Can you see my e drums in the background?
Of course, also electronic drums allow you to add more drums or cymbals.
So, what drums are part of a standard 5-piece drum set, then?
Let's take a closer look at them.
The Bass Drum
The bass is the biggest drum of a kit.
It ranges from 18 to 26 inches in diameter.
Most of the time, however, the bass drum measures 20 or 22 inches.
It's also the one with the lowest tone.
Yes, you can tune each drum:
The bigger it is, the deeper it can sound.
So, each drum comes in different sizes.
It's not only the bass:
The snare drum can measure 10, 12 or 14 inches in diameter, for example.
14 inches is probably the most common size for a beginner drum set.
The height is different as well.
Most beginners go for a 5 to 6 inches high snare.
But it depends.
As I said, there are also smaller and way bigger or smaller drums available.
The bigger, the better?
At a concert, I've played a 26 inches- yes, 26"! – bass drum.
This one was WAY too big for me, unfortunately.
I had no choice, but to make the best out of it.
At the same time, a bass drum can also be 18 inches.
I actually play such a smaller drum set during my local music lessons.
If you like to, you can have a kit with two bass drums.
That's something you might go for when playing metal.
However, I've never been a fan of two basses.
It looks and sounds awesome (you can tune each bass slightly different!), but
you need a big rehearsal room,
big car for transport and
likely more time setting the kit up at the studio or for live concerts.
On the other hand:
If you don't mind these things, I'd definitely go for a drum set with two bass drums.
The Snare Drum
I've mentioned it before:
The snare drum also is a crucial part of a drum set.
Maybe it's even THE most important part of it.
Just like the bass drum.
I mean, you can play a groove just on bass and snare.
It still sounds cool.
If you like, you can also add several snare drums into your set-up.
For example, you could go for a main snare measuring 14 inches in diameter and a 12 inches side snare.
Maybe you want to have a piccolo snare instead?
These really sound cool, but not for every drummer of course.
However, most beginners will be perfectly fine having a standard 14 inches snare drum with a height of 5 or 5,5 inches.
What Drums Are In a Drums Set? Many, Many Toms!
Toms or tom toms are an important part of your drum set.
Just like any other drum or cymbal, they come in different inches like
A standard kit for rock, funk or pop music likely is equipped with three different toms.
The inches in diameter range from 10 to 18, while the height of each drum might vary.
Depending on the style of music you play, your drum set might be made of different instruments as well:
For example, jazz drummers often don't have a middle-sized tom.
When playing metal drums, there could be an additional 16 or even 18 inches tom added to the kit.
This means:
The set-up depends on the drummers' needs and preferences.
You get the point:
There are many drum sizes you can choose from.
This is awesome, but can also be a little overwhelming for the drum beginner.
That's why I can recommend you a classic 5-piece drum set.
It simplifies your choice to start learning the drums.
If you want to add more drums or cymbals, you can do so.
What Drums Are In An Electronic Drum Set?
Just like acoustic drums, electronic drums have different instruments integrated to them.
A classic set-up for beginners is made of
a bass drum,
three toms and
a snare drum.
Cymbals like a pair of two high-hats, a crash and a ride are included as well.
However, e drums are not made of wood.
They are made of hard rubber or mesh material.
Also, you can trigger acoustic drums to build a hybrid kit.
A lot of e-drums are way smaller compared to acoustic drums as well.
That's the case for many models, ranging from cheap to expensive.
How To Find Your Perfect Match
What drums are in a drum set?
This was the question we started out with.
As we learned, you have to answer this question for yourself when finding your perfect instrument.
However, the 5 basic drums including
the snare,
bass
and our three tom toms
are the basics most kits for beginners are made of.
And how do you find your perfect match?
Try it!
Sit down and play the drums.
This will give you a sense whether you like the particular drum kit or not.
Also, consider your personal height when buying a drum kit.
Big drums might look and sound awesome, but they can be hard to play when you're a smaller person.
That's why I had the problem play the 26 inches bass drum.
The toms simply were too high to reach.
No perfect match for me.
Cheers,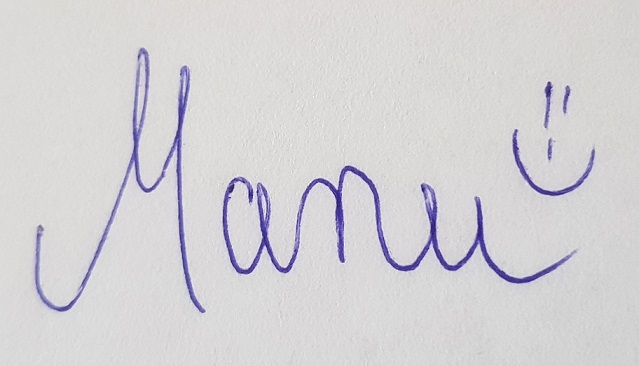 Affiliate Disclosure:
Links marked with a * are affiliate links. If you click on such a paid link and purchase something, I may receive a commission (at no additional cost to you). Click here for more information.
Share what you've learned!