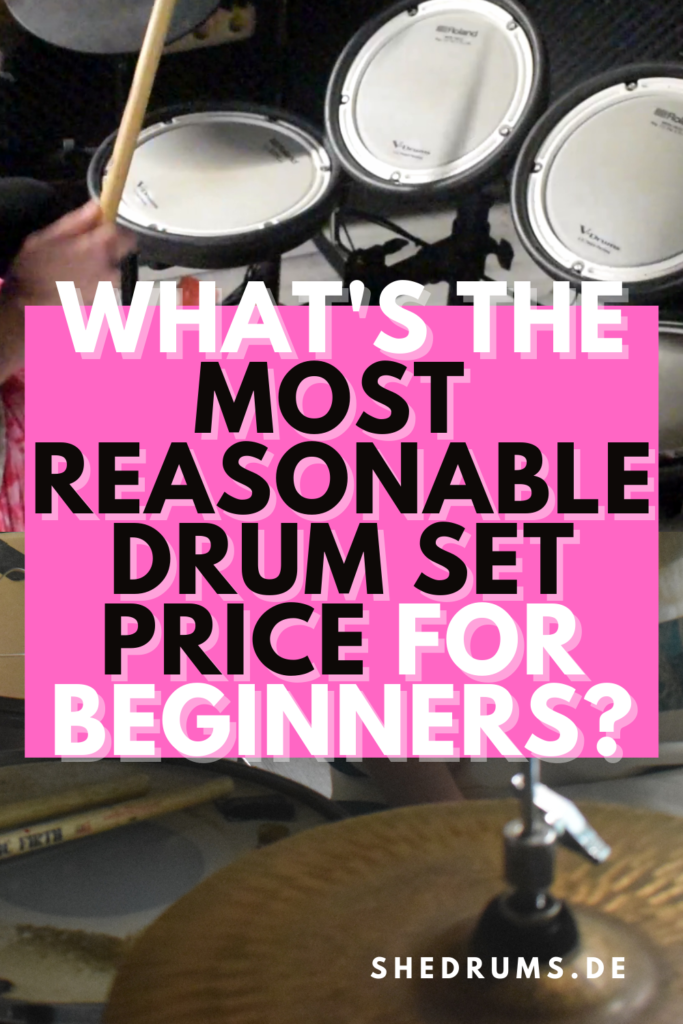 What?! Is this really a drum set price? That's like buying a freaking car!
Said a lot of people seeing the prices of high-end kits for the first time.
The good news is: As a beginner, you definitely don't need a biggie under your butt.
More affordable instruments for beginners will do the trick for you to.
Is there any bad news?
No, but the question remains: What's the best & most reasonable drum set price for you?
Let's take a look at it.
To start off, I'm sharing some of my own experiences when buying my first two drum sets as a beginner.
Yes, there were actually two of them.
My big mistake when buying my first beginners drum sets
Ok, so you made the decision to buy yourself a drum kit. GREAT! But you don't know about the budget.
And trust me, I didn't either back in the days.
So I set a budget for myself. As I was a newspaper delivery girl back then, I had some savings ready for buying me my first drum set.
Unfortunately, I made a huge mistake to start with: I bought a crappy no-name drum set from eBay.
And yes, it was kind of ok for the price, I guess. I also used it for an overly long time, considering the quality of it.
I mean, it really sounded bad. But as I was a beginner drummer, I was more concerned of other stuff.
Like coordinating my limbs. Or keeping the tempo. And stuff like that. I don't need to tell you.
After some more time, however, I got really annoyed by the crappy kit. Actually, some parts of it had broken down.
I remember fixing the hi-hat with Velcro tape. Yes, I literally did this. It helped, but not in terms of the sound. Or the usability. And let's not talk about how it looked.
For this reason, I soon had to realize: I had to buy a different kit. A good one. And invest some more money.
Again, the search for the best drum set price needed to be answered.
A four digit investment that pays off up to this day
I bought my PDP kit you can see in my YouTube videos right after the eBay accident.
It wasn't new, but second hand (from a music shop), and I had to lie 800 Euros or around 900 US Dollars for it down on the table.
I did get the Iron Cobra Double Bass Pedal soon after buying this set as well. Adding up another 375 Euros or 420 US Dollars.
Spoiler: This one has been one of my favorite investments in terms of drum gear. I still use this set of pedals up to this date.
It has been trustworthy & reliable for over a decade now. And it probably will continue to be awesome.
So if you want to buy a bass drum pedal, I highly recommend the Iron Cobra series by Tama. You can buy it as a single or double pedal. I have the Power Glide double bass. Of course, it's not the newest model.
But that's not all, for sure. Cymbals are important for beginner drummers as well.
Cymbals, oh sweet cymbals
The cymbals I got were relatively cheap back then. At least compared to some of my instruments I play today.
However, I also have some cool and really affordable cymbals in my set-up today. My 14-inches Millenium B20 Crash is an excellent example for this.
So the price does not always say everything about the quality of the sound.
For me as a drum newbie, though, I bought the Paiste PST 3 series as a premade kit. That was another 180 Euros or 200 US Dollars to the bill.
As you can see, I started out on a shitty kit from eBay, equalling the price of just my Paiste cymbals.
And yes, those cymbals are actually pretty cool for their price.
Obviously: I felt the need to upgrade EVERYTHING about the drums.
So I will not recommend you going for the most cheap drum set price either.
However, you don't have to invest a four-figure sum to start with. You can also set a budget of around 800 bucks or even less.
If you go for second hand drums, that's totally possible.
Also keep in mind that new drum sets for beginners often come in bundles. They are worth a look too.
You don't need the most fancy drum kit to start out. BUT do not get the cheapest music instrument, either.
They are most likely no bargain.
Literally, I had to pay twice for this experience. So save up more money if required.
Just don't settle for the lowest standard. That's simply no fun. And we're making music for having fun, aren't we?
Renting instead of buying can be a great alternative
As I said before, buying music instruments second hand is a great way to save money. However, you can also rent your favorite instruments.
Where I live, it is possible to get a great kit for a monthly fee. If I decide to buy it, my rental costs will be deducted from the bill.
Is renting a drum set possible where you life as well? It could be really worth trying!
For example, I rented a electronic drum kit some years ago. I soon noticed I didn't like it at all.
So I just paid the rent and cancelled the contract when I had the chance to.
Had I bought the kit, I would have to sell it. Simply returning it is much more relaxed and yes, it did save me money as well.
(Used music instruments don't increase in value unless they are vintage or rare for any kind of reason. So don't bet on being able to sell a slightly used drum kit for nearly the initial price you paid.)
How you can set a budget and decide on your most reasonable best drum set price
For me, a good quality drum set is a blessing to have. However, good quality doesn't mean the kit has to be expensive.
Please keep in mind as well:
Whether you're looking for an acoustic or electronic drum set also can make a difference in terms of the instruments' price.
If you want to play an acoustic set, I would at least invest 800 Euros or 900 US-Dollars for a kit.
You can find pre-packed sets including everything you need to start with for this price.
Electronic drum sets are also available for several hundred bucks. I recommend gear from Roland.
I have the Roland TD-1DMK, for example. It's a great set you can definitely have a lot of fun with not only as a drum beginner.
Without a bass drum pedal, sticks and a drum throne, I paid 598 Euros for this kit.
As you might not already own
a bass drum pedal,
sticks and a
drum set throne,
I would at least calculate with 200 Euros on top of your bill. So the acoustic and electronic drum set price are quite comparable.
Can you pay less? Sure. As I said, checking out second hand offers is a great thing to do.
Also, you could settle for a more affordable drum kit to start with. Just make sure to try it before you buy it.
Speaking of:
Try it, before you buy it
On the first glimpse, drum sets might look just like they are the same. They are not!
There are many
materials,
sizes and
configurations
you can choose from.
So finding the best drum set price is just one factor of buying your perfect matching bunch of instruments.
What I can highly recommend you is this:
Kids and smaller people like myself (I'm a 163 cm or 5.35 feet female drummer) do benefit from a drum set with a bass drum with 20 or 22 inches.
I did play on an acoustic drums with an 24 inch bass drum, but the set-up was really not suiting my needs.
That's bringing me to the trying before buying thing I mentioned before:
I would not have known this if I hadn't sat down behind such a kit. And no, I wasn't going to buy it in the first place.
Actually, I played the 24-inches kit at a gig. It wasn't my best concert … But that's a different story.
So make sure to test the instrument before you think of buying it. Let's be honest here:
Even 50 bucks is too much of a drum set price when you're never going to use the instrument.
What to do now: Settle for your own perfect drum set price
Now you should be equipped with all the knowledge to think of the most reasonable drum set price for you.
Make sure to write it down now and start searching for suiting instruments today.
By doing so, you're ready to start your own musical journey the best way possible.
However, maybe you just need to save more money. That's fine, too. You could do some exercices that don't need a drum kit. (Yet!)
This way, you can start your drum journey NOW.
And you know what they say? It will be a great one if drumming is involved. 😉
Cheers,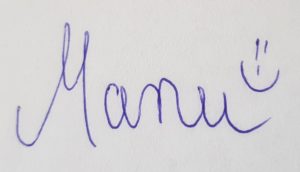 PS: Do you have any more questions on a good price for drum sets? Let me know in the comments! I'm glad to share some more thoughts with you.
Share what you've learned!