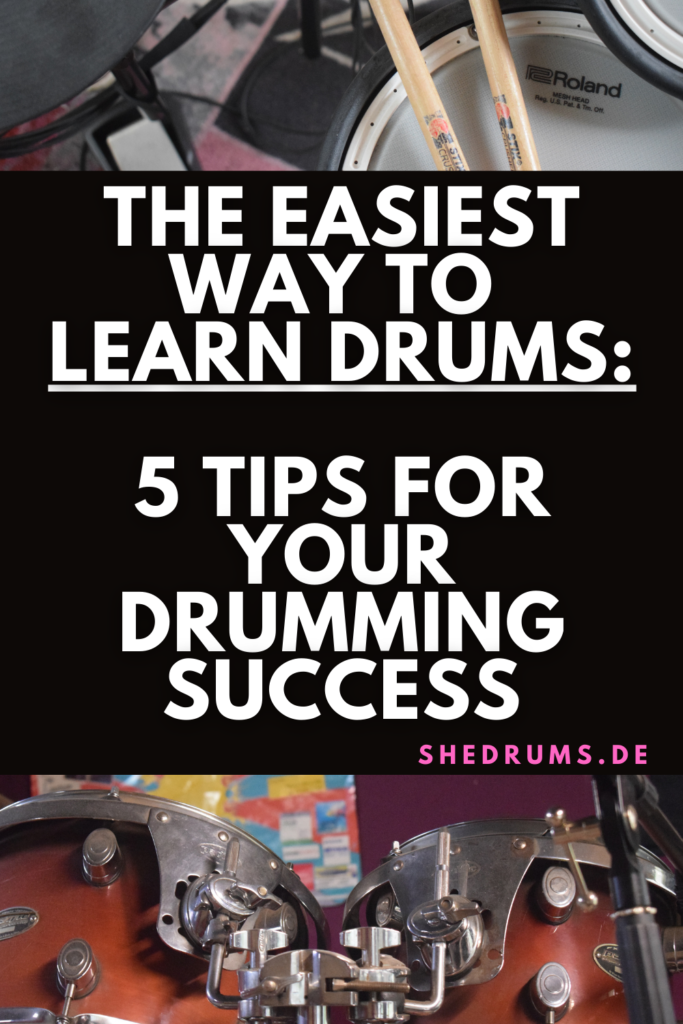 Easy. Just like the ABC. Is it? A lot of people wonder whether the drums are hard to learn or not. Also, the easiest way to learn drums is a frequently asked question.
So what is it?
To start off:
There is no thing like THE way you can learn the drums. You're an individual person and therefore, your musical journey is just as unique.
However, you can benefit from tried and tested tips helping you learn the drums much easier.
Let's look into 5 of them, shall we? 🙂
Invest in professional drum lessons
Make sure to get professional help in the first place. Drum lessons near you are the best example for this. You can also enroll in online courses.
It doesn't matter whether you learn online or offline. The important thing to know is:
A great teacher is your shortcut to learning the drums.
He or she helps you to learn faster. You can save a lot of time and nerves when somebody shows you the ways to do things right.
And no, I don't say you you NEED to take drum lessons to become a great drummer.
However, I do say they make learning this music instrument much, much easier for you. And that's why we're here, right?
Make sure your grip and technique rocks
Drumming grips? Technique? Highly important for your drumming success!
Even if you don't want to be the next Thomas Lang or Cindy Blackman – you have to learn the basics.
Without a supporting grip or helpful bass drum technique, you will give yourself a hard time drumming.
Both of them make
playing beats,
fills or
other exercises
much easier. That's why we learn them in the first place.
Remember:
Drumming technique helps us to be able to play what we want to.
It's not that we practice it for the sole purpose of it. We learn it because it helps us to learn.
So having a good grip and technique is another essential tip if you want to learn drums the easy way.
Again, a great drum teacher will help you with this one.
Focus: The Easiest Way To Learn Drums
You know what? There is always something new to learn on the drums. You're never done learning.
That's great, but also a little overwhelming. What to do? Focus on one thing at a time.
Here's an example:
If you want to master the fancy drum beat, practice it until you can't get it wrong. Then play it to your favorite piece of music. Works?
Great, now repeat.
And: Avoid multitasking behind the kit!
I know that we all play different patterns with our hands and feet at the same time. But that's not what I'm talking about.
I'm talking about working on a certain groove for the first and play it extremely fast at the same, for example.
That's not going to work out. Trust me, I've been there.
So if you want to walk the easiest way to learn drums, don't overwhelm yourself.
Learn one thing at a time and move on with the next.
Get reliable equipment and high-quality drum sticks
Bad gear or the wrong kind of drum sticks make learning to play the drum kit more difficult than it needs to be.
Both are supposed to support you. So always choose good quality equipment.
Quality doesn't mean your kit or sticks have to be highly expensive. It means you should get a drum set that
is the right size for you,
can be played ergonomically
and sound good, so you love practicing.
Your sticks also should match your personal needs in terms of
weight,
length and
material.
The easiest way to learn drums is like a puzzle: Small pieces come together and form the great picture.
The easiest way to learn drums is unique like yourself
You might wonder if there is a blueprint for learning a musical instrument.
And yes, there is. At the same time, there isn't.
Thing is: Your journey to becoming a drummer is absolutely unique.
You learn the basics and from there on, everything is flexible.
It comes down to your drumming goals.
See, if you love playing Jazz, you likely won't practice Metal double bass beats. And vice versa.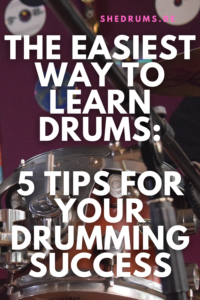 The easiest way to learn drums for this reason is the one that suits you perfectly.
It helps you step into your personal success. In addition, you will LOVE your way. Your drumming journey.
For this reason, the easiest way at the same time is the best way to learn drums. But not for everybody. Just for you.
You could also describe it as the path of less resistance.
That's when everything falls into place:
You make progress while having a great time learning. You're in the flow. And you love it.
That's the thing I wish for all of us. Not only in terms of drumming, but in all parts of our lives.
Playing the drums just is one of it. Let's make it an awesome one.
Cheers,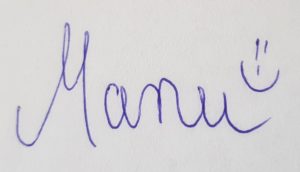 Share what you've learned!