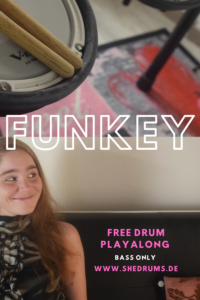 With Funkey, I'm presenting you a funny and short Bass only playalong you can drum to. Have fun! 🙂
To make drumming along more easy, I'm sharing some helpful advice with you too. Also, you'll find the bass tabs as a free PDF in this article.
I find it quite handy to use them as a lead sheet.
Speaking of:
Please note that bass tabs kind of look a little different from notes you might be used to.
However, Funkey is a piece of music written in 4/4. Keep that in mind, but you will hear it anyway. 🙂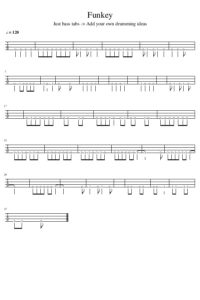 Funkey Bass only playalong – things you should know on the drums
The 120 bpm Funkey is a moderately fast piece of music. It's quite straight forward, but it has some syncopes in it.
Also, watch out for the lovely breaks and punctuated notes. They give you quite a nice time to throw in some drum fills.
On the other hand, it's a good idea not to play too much.
When I recorded my first drum tracks for example, I did notice a slight overplaying with my drumming. It simply was to much. So I cut the notes down and concentrated to more basic beats.
I mean hey, you're given some solo spaces anyway! 😀 Speaking of: Do you see the empty bars in the PDF?
This is no writing mistake but your 1 bar 4/4 solo spot. The bass is resting which gives you a lot of space to go crazy on the drums – if you want to. 😉
3 steps to get funky
1Before you start drumming to Funkey, I highly recommend listening to the tune several times. That's always handy because you get a good feeling for the musical phrases.
Also, you will no longer have to rely on your bass tabs PDF at some point. Of course, it's cool to have it, but knowing something by heart is even nicer. 🙂
2 Now that you know the song by listening, take it to the drums. Be creative and test some ideas. It could be that things won't match that well in the beginning. But that's fine – and a sign for practising new stuff!
Tip: Go for grooves you feel comfortable with. Strive to be able to play the song first. When you can groove along, add fills and other "more fancy" ideas. But first, the fundament has to be set!
3 Know Funkey? Check.
Play it? Check.
And now? It's up to you!
For example, you could experiment with what you've learned so far. Maybe add the feeling by changing to an Uptempo beat.
Or leaving more space by playing less. Halftime anyone?
Maybe you also want to add the song to your daily practice routine? The choice is yours. 🙂
How does your version of Funkey sound?
As with every playalong, there are so many musical things to explore. Have fun by doing so!
And I'd really love to hear what your version of Funkey sounds like.
Be sure to leave a comment with a link where I can listen to your version. I'm looking forward to hearing from you – literally. 😉
Love,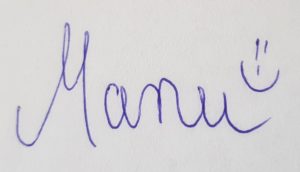 Affiliate Disclosure:
Links marked with a * are affiliate links. If you click on such a paid link and purchase something, I may receive a commission (at no additional cost to you). Click here for more information.
Share what you've learned!