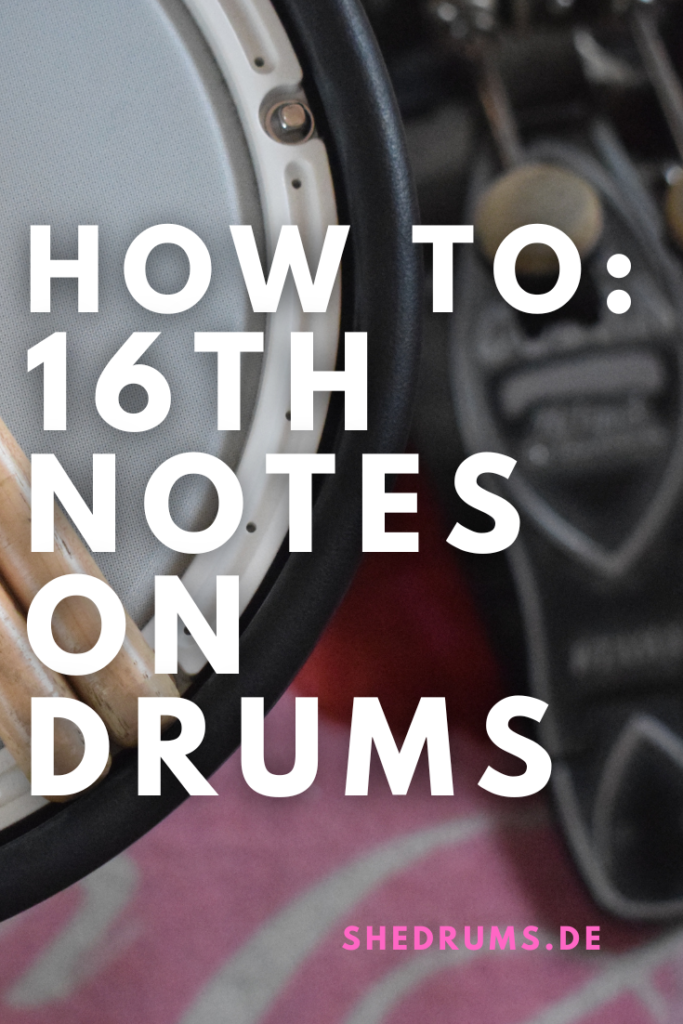 Sixteenth notes on drums?
Love them!
And I truly believe: You will as well.
For this reason, I made this comprehensive guide for beginners.
You'll learn everything that you need to know about this lovely note value.
Ready? Let's rock!
What Are 16th Notes?
Disclosure:
Links marked with a * are affiliate links. If you click on such a paid link and purchase something, I may receive a small commission at no additional cost to you. Click here for more information.
Sixteenth notes on drums or other music instruments are considered to be played fast.
However, that's only a drumming myth.
Thing is:
Depending on the overall bpm to play, sixteenth notes can be played very slow, too. So their pace is relative, compared to other note values or rests.
Here's how a single sixteenth note would look like played on the snare drum. Next to it, you can see a sixteenth pause.
The two bulks show you that you're going to play percussive instruments. It's the percussion or neutral clef.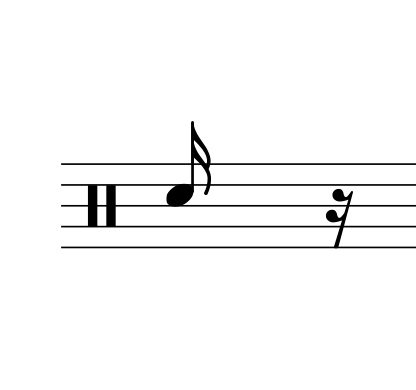 In addition, the notes are known to be played straight forward. This means, you can divide a quarter note into four straight 16th notes on the drums.
No shuffling around.
Ternary would be: You divide a quarter note into triplets or sextuplets. This makes the shuffle feeling you might know from Jazz or a lot of Blues songs.
Let's take a look at this piece of sheet music.

In this note example, you can see a full bar of quarter notes in 4/4.
These values are our basis. We now need to break them up into other notes and rests.
Have a look at these four bars in 4/4: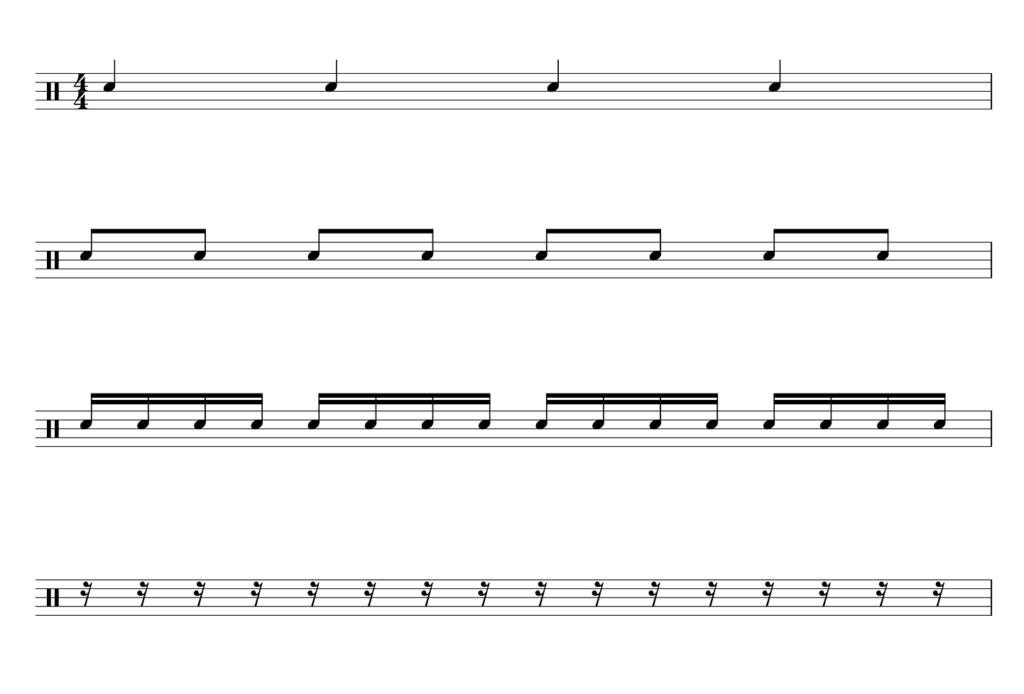 As you can see, our quarter notes are our basis. (First bar)
You can divide each of them now into two eighth notes. (Second bar)
From there on, you can do the math again.
Now you're able to divide one quarter note into
two eighth notes,
four sixteenth notes (Third bar)
and four sixteenth pauses. (Last or fourth bar)
You can also see:
One eighth note equals two 16th notes and vice versa.
Also, the same goes for sixteenth pauses.
They are just like the values you can hear – except their silent nature.
How To Count 16th Notes
Ok, so sixteenth notes are
not always played fast,
four of them are as long as a quarter note
and they can be divided into different groupings.
Are you with me? Wonderful. 🙂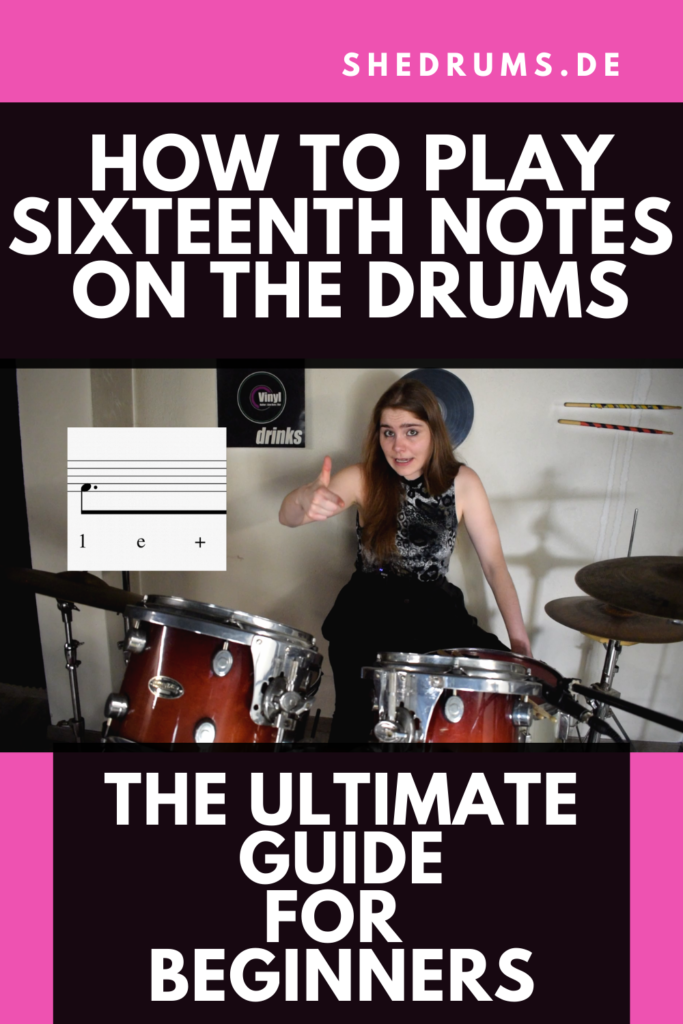 Then let's look at how you can count sixteenth notes.
There are many ways to count them.
What you'll learn in this music theory guide is my preferred way.
Also, I'll give you a popular alternative to it.
However, those are not the only ways to count 16th notes as a drummer.
What's my way of counting, then?
It's
1 e + e 2 e + e 3 e + e 4 e + e 1 e + e
in 4/4.

Each + is pronounced as "and".
When the time signature changes, the amount of notes or pauses does as well.
Here's an example in ¾:
1 e + e 2 e + e 3 e + e 1 e + e etc.
The bar is over?
Remember to restart counting at 1.
Are There Other Ways To Count Notes And Values?
The alternative to counting sixteenth notes on the drum kit would be with an additional a instead of two e's:
1 e + a 2 e + a 3 e + a 4 e + a
For me, the way of counting depends on your favor.
As I said, I go with the two e's.
Check both variations to find your favorite.
Easy Drumming Exercises With Sixteenth Notes
So far, you've learned
what 16th notes in music are,
how they look and
two ways to count them.
What else is important now?
Bringing them to the drums!
Remember: Reading about something is nice.
However, it's about taking action that makes the biggest impact.
And that's what we're here for, right?
Free drums sheet music is a great way to get you going. 🙂
Speaking of.
Drum Grooves With Eighth & Sixteenth Notes For Beginners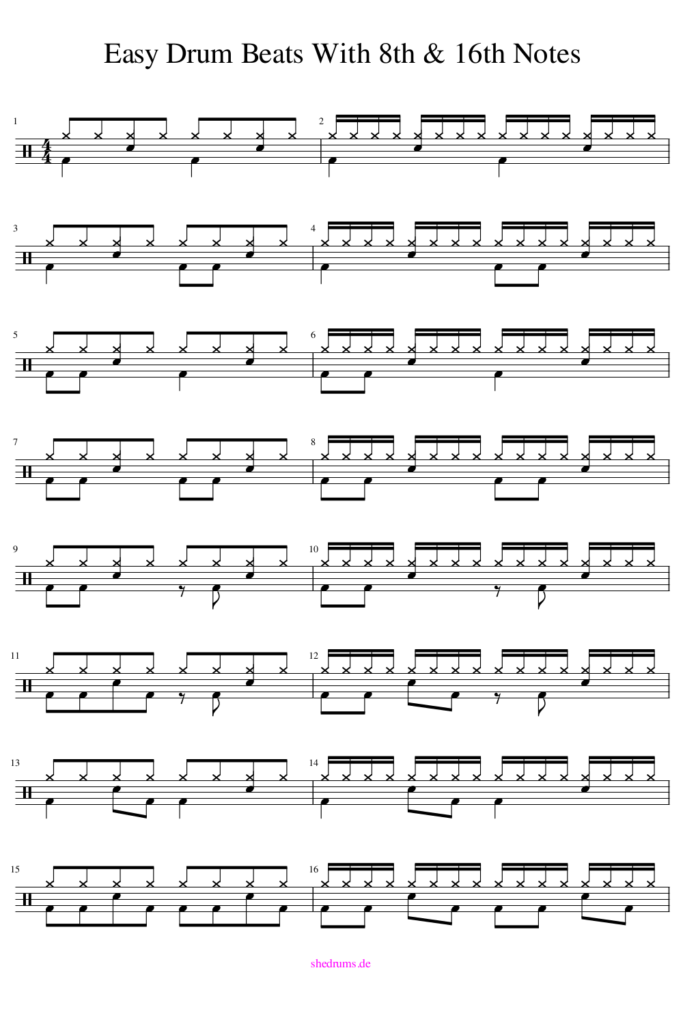 As you can see, there are several drum beats with eighth and sixteenth notes on your free drum notes.
They actually are pretty the same, except one difference.
But that's a biggie:
After learning the groove based on 8th notes, you can play the same beat with 16th notes.
However, the cymbal pattern changes.
This helps you get into the flow of playing sixteenth notes on the drum kit without being overwhelmed.
Playing Your Drum Beats Crossed-Handed
You can play the 16th notes beats with one leading hand.
Go for your main one to begin with.
Just play the grooves crossed-handed.
Also, you can practice the beats with two hands playing on the hi-hat. This helps you play faster while being as relaxed as possible.
Start with your stronger hand and continue playing Single Strokes.
The sticking would be R L R L (R = right hand, L = left hand) or L R L R, depending on what's your leading one.
When doing so, your weaker hand will play the snare.
At the same time, you WILL NOT play the hi-hat.
I did this in this video as well:
Pay Attention To The Stickings
You want to play the drums hand to hand?
Here's another crucial thing to know:
As your hands play right, left, right, left, etc. or vice versa, the hits on the snare drum might be a problem.
Notice that you need to play them without the cymbal on top.
The snare drum for this reason is played linear or without any other instrument added.
Drum beats with sixteenth notes? Check.
But what about fills? I hear you.
Let's also take a look into drum fills.
Surprise:
Another sheet music PDF for you. 🙂
Here you go.
Drum Fills Free PDF Notes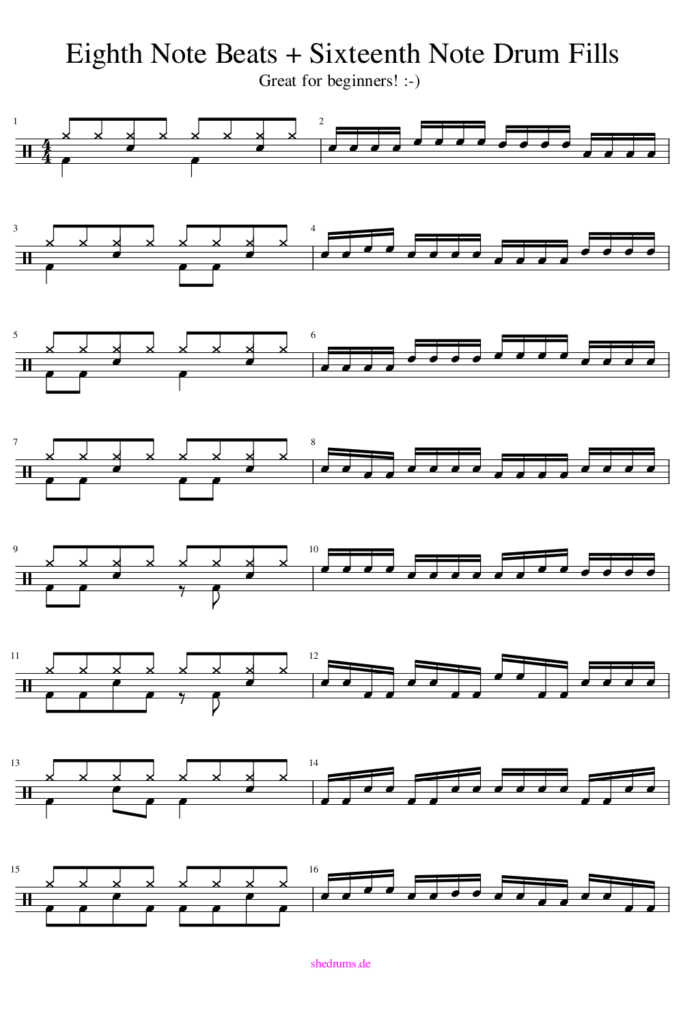 The grooves on this PDF are the ones we learned before.
You can also change them with our beats based on sixteenth notes.
Please notice that you can also adjust the order you play a drum beat and fill.
Let's say, you combine beat 11 with drum fill 2. Or, you can play groove 5 with drum fill 9.
Be creative and have fun with your free drums sheet music! 🙂
And now, let's have a closer look at our fills mixed with sixteenth drum beats.
Drum Fills With 16th Notes Around The Kit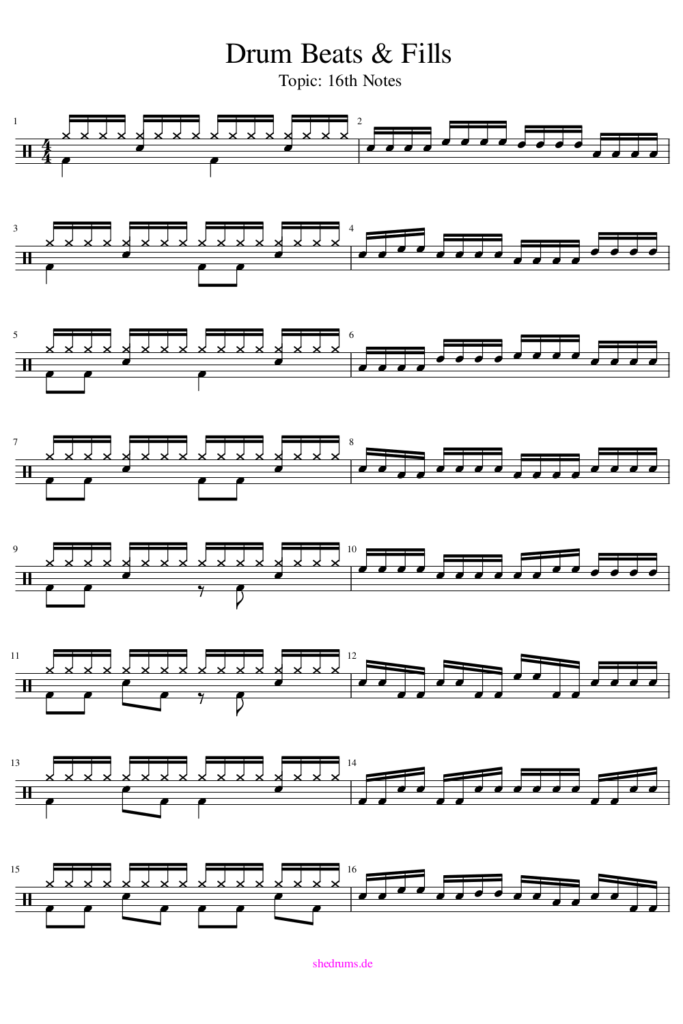 Playing our drum fills, we stay in 4/4 as a time signature.
However, we do change our instruments on the drum kit.
Now, you're going to play
the kick,
snare drum,
and your tom toms.
No hi-hat, ride or crash cymbals needed when playing the drum fills on the sheet music.
You can practice each drum fill as it is shown or changing it.
For example, you might want to play the bass instead of the snare drum.
Go for it, after you've practiced the fills as shown on the sheet music.
Also make sure to play to some of your favorite songs while practicing drums.
This not only makes sense when learning sixteenth notes or something like this.
It's always a great idea to play to music.
And it's great fun as well. 🙂
Tips Helping You To Practice Sixteenth Notes Even Smarter
Thing is: There is a lot to learn on the drum kit and beyond.
Tips for this reason are gold worth.
So to conclude this article, I'd love to share some of my favorite drumming hacks.
1. Count Out Loud While Practicing
What you can say is what you can play.
Ever heard about that?
You know, it's true.
So, make sure
the rhythms you want to learn.
If you can say them right, you'll instantly notice that you're able to play them.
And if not?
Keep practicing!
2. Take One Step At A Time
Understanding note and rest values is a great basis for making music.
However, it's a lot of stuff to learn.
So don't get yourself in trouble by wanting to master everything during a single weekend.
Take your time to understand what you've learned, instead.
There is no rush – you've got time.
Also, take your theoretical knowledge to the drums.
As I said: There's hardly anything more powerful than actually taking inspired action. And then, do this again.
Speaking of:
3. Keep Practicing (Not Only Sixteenth Or Eighth Notes)
You know what makes a great drummer? He or she is persistent.
Also, he or she practices the right things right.
That's all.
So keep on practicing drums as well.
No matter what's on your schedule – learning a music instruments does need its time.
You will get better by playing in the long run. I have, and that's why I'm a 100 % sure you do as well.
4. Use the click
The click or metronome is a powerful tool not only for drummers. However, it might not be the most popular one.
Do you agree?
For me, practicing to and with the metronome was a game changer.
Literally! It's so, so helpful.
I can't state it enough.
If you benefit from one tips of this drumming guide, let it be this one:
Get yourself a metronome or click app. Use it o a regular basis while practicing. And yes, you can practice sixteenth notes on the drums with it as well.
(I recommend the Korg MA-2* if you want to use a compact metronome. Used it for several years myself and I think it's the best you can buy out there.)
Feel free to do so after you stopped thinking about it. 🙂
And now: Take action!
(Don't forget to download your free drum notes as well. Simply scroll to the top of this article to grab each of them.)
Cheers,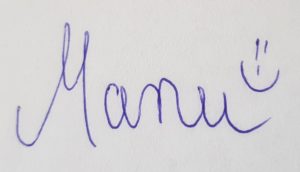 Share what you've learned!