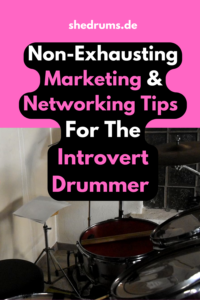 Being an introvert drummer can be tough.
Especially if you want to market yourself, or build up your network in the music industry.
You're not only introverted, but also shy?
Things might get even more challenging for you.
However, this doesn't have to be the case.
In fact, being introverted and/or shy as a drummer is not a problem.
It's just a part of your personality.
On the other hand, I know the many hardships of being an introverted drummer.
That's because I'm introverted as well.
How has this affected my drumming career?
Well …
Continue reading

"Non-Exhausting Marketing & Networking Tips For The Introvert Drummer"